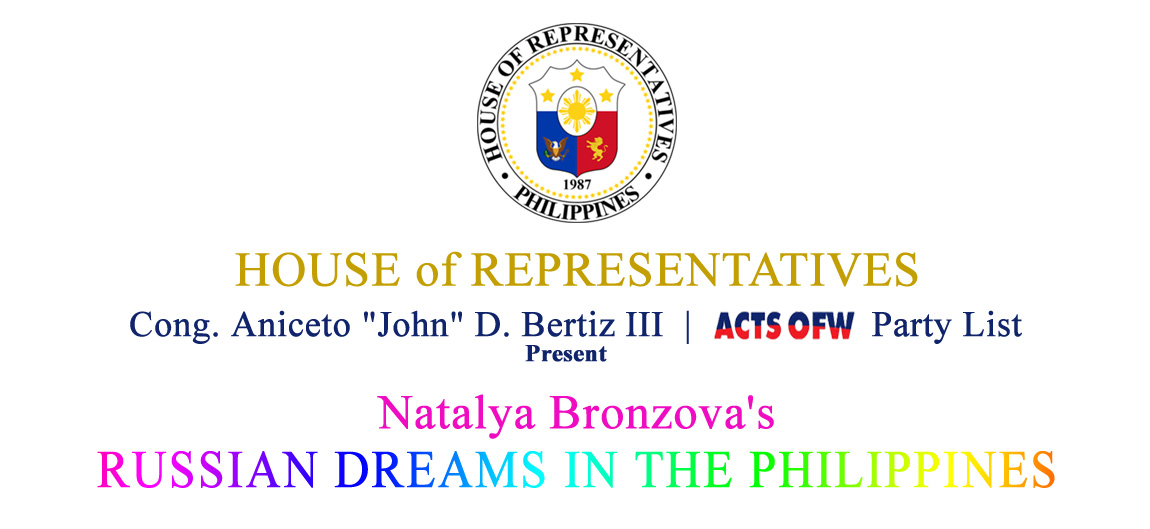 Natalya Bronzova is the first Russian artist to hold an exhibition at the
Philippine's House of Representatives
On September 25th, dreams of Russian born Natalya Bronzova became reality as her solo exhibition was inaugurated by the honorable guests: Deputy Speaker Hon. Linabelle Ruth R. Villarica, Cong. Imelda R. Marcos, Cong. Anthony M. Bravo, The President of CCP, Arsenio J. Lizasso, Hon. Fema Duterte, famous journalist Ramon Tulfo, Ambassador Victor Garcia and Council Viktor Balashov!

Patronizing the exhibition was Congressman Aniceto "John" Bertiz III of ACTS-OFW Party list. He was so impressed by Russia while accompanying President Duterte on his visit to Moscow in May 2017, that he proposed that a Russian artist living in Manila should expose her works at the Congress, as a part of a cultural exchange and to straighten friendship between the two countries.

It was the first time that the National Russian Anthem was played in the Congress of the Philippines in honor of one only person: Natalya Bronzova, a writer and artist, who promotes Russian culture and Art in the Philippines! Ms Bronzova become very much part of the Philippines society as she has lived in Manila for over five years and befriended many outstanding people here.